Functional Art
SculpTree Coffee Table
This truly amazing functional art piece, happens to be also a rugged and durable coffee table. As the name suggests it, "Sculp-Tree" is a sculpture-like design inspired by a beautiful tree near the artist's studio. The overall shape, as well as the growth rings in the top design reflects this tree-based theme. There are over 7 species and 1,200 pieces in this rustic beauty. Each piece features interlocking joints for added strength. Every 8 layers is a different species of wood. There are no veneers used in this functional art. Sculp-Tree boasts 1 ½" thick, solid wood construction. This truly one-of-a-kind layered construction base is capped with a beautiful, handscraped solid top (also avaialble in a wood and marble combination leaves & mushrooms inlayed top).
Size: 43" L X 26" W X 19" H 
Species: quarter sawn oak, walnut, maple, cherry, teak, wenge 
1,200 pieces 
TOP: quarter sawn oak and walnut, hand sculpted 
Finish: 100% solids penetrating alkyd oil 
As of 2017 we now sell "Sculp-Tree" direct. This means you can now buy it at a MUCH lower price. High end NYC boutique stores would retail it for $13,000-$15,000. Direct from us it is $7,500! We can deliver in the NYC area or ship out in 2-3 weeks.
Free pickup in Florida, or flat $300 shipping in the continental US.
A FAVORITE AT THE ARCHITECTURAL DIGEST DESIGN SHOW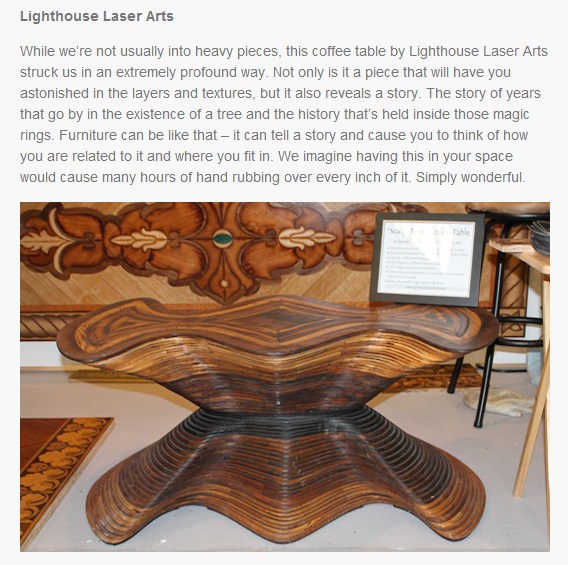 Our "Sculp-Tree" coffee table was chosen to be among Gloss NY's favorite products at the 2013 Architectural Digest Home Design Show.
We had a very succesful show, thanks to a great degree to this truly one-of-a-kind coffee table. Built in layers, consisting of over 1,200 pieces and 8 species of solid hardwoods. It was truly a show stopper!
SculpTree Video
Octo-Twist Table
Coffee Tables