What Sets Us Apart: Examples Of Our Signature 3D Modes
Ingrained 3D Shading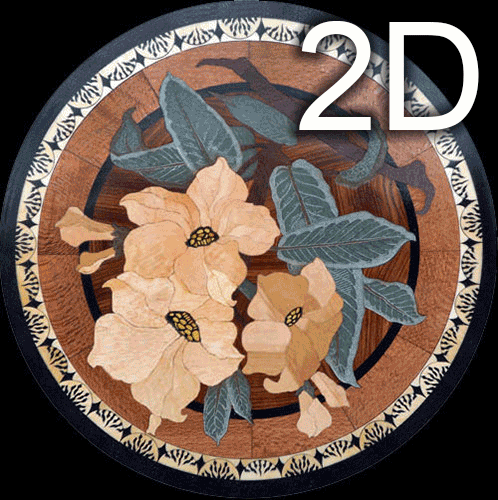 Our FLOOR / WALL ART INLAY COLLECTION features wood and an alluring medley of mixed media combination designs. Our comprehensive pallet of raw materials enables us to create wood flooring medallions, borders, parquet designs and wall art with unparalleled and dynamic range of colors and textures that are unique within the industry.
Besides the color and texture of the materials, depth and dimension are important factors in achieving our signature 3 dimensional look.  In our 3D world, there have only been 2D floor designs that often look flat.  We have overcome these 2D limitations with our trade secret process and innovative use of state-of-the-art technology.  With our definition carving and deep gradient shading technologies, we ingrain movement, depth and realistic shadows for a stunning 3D look.
We adjust the construction of the design to best fit the use and application.  For example, our wood flooring inlays typically feature a solid ¼" wear layer, mounted to ½" Baltic birch plywood.  This is similar to the wear layer of a ¾" solid wood floor.  If the design incorporates carving and shading features, we recess these features and fill up the difference with a high strength crystal clear resin.  This allows the design to be safely sanded and refinished together with your floor, should that become necessary in the future.  This resin is universally compatible with all types of urethane and surface coatings.  If, however, the design is intended to be used as wall art, or a softer more natural look is desired, we do not recess the carved/shaded areas and do not apply resin.  Instead, we apply a penetrating/hardening oil for an authentic, soft hand-rubbed, natural look and feel.
2D vs 3D Example 1
Pin 2D
. . . .Pin 3D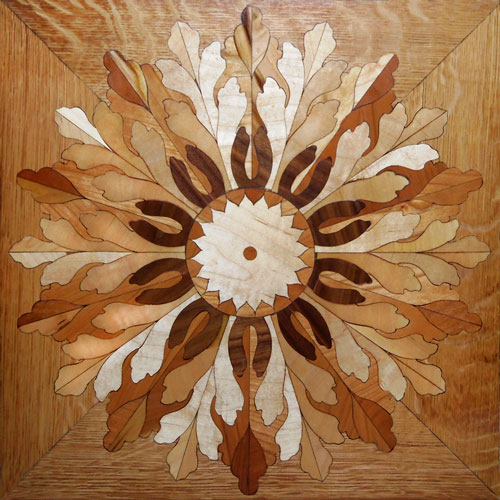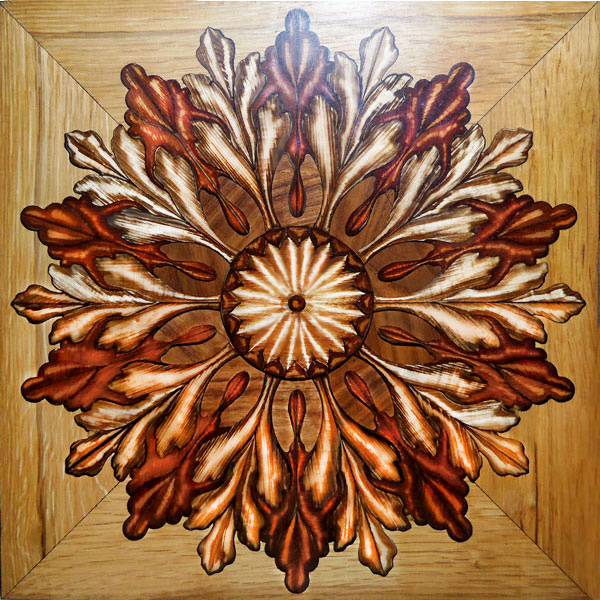 2D vs 3D Example 2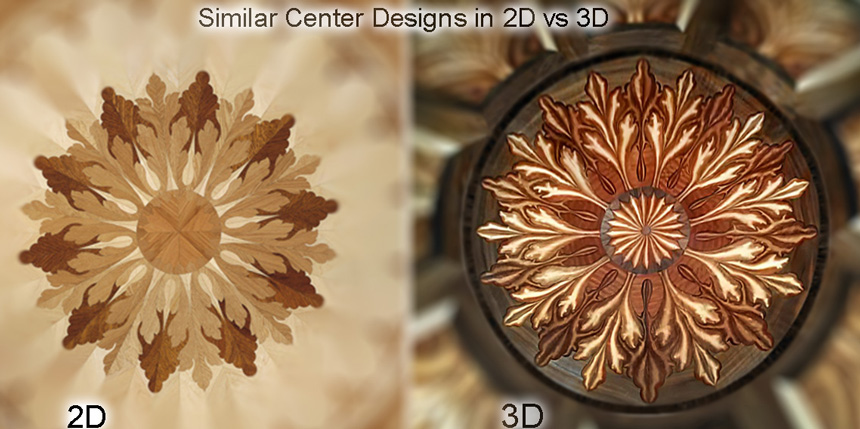 Below is the design in its entirity.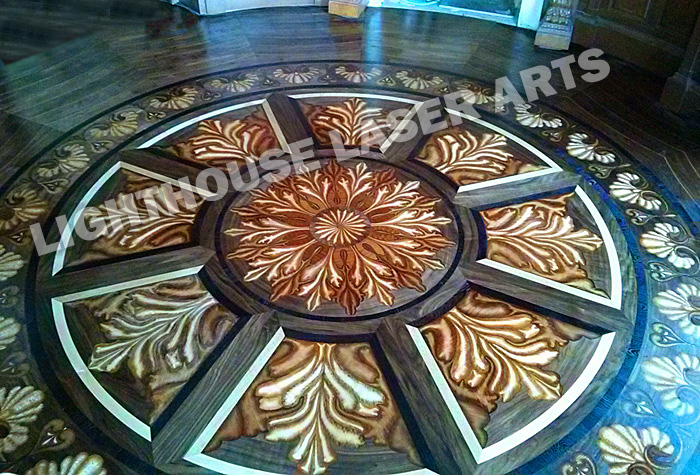 2D vs 3D Example 3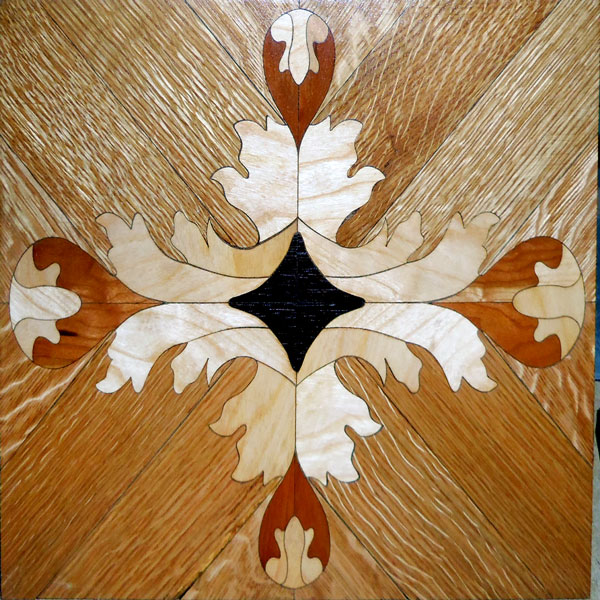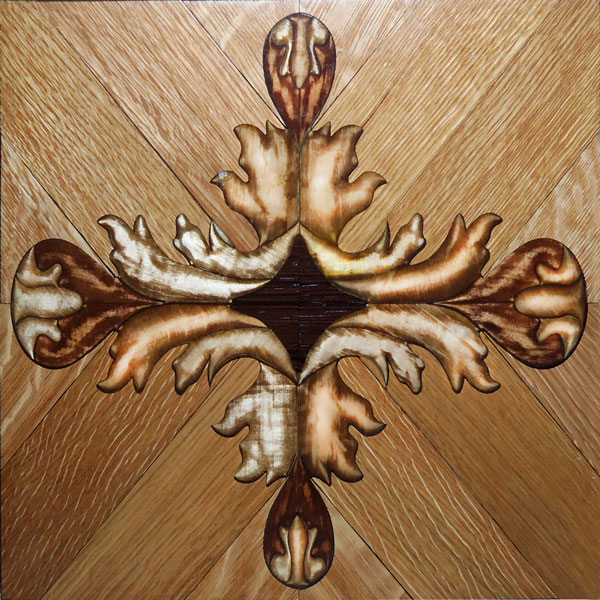 2D vs 3D Example 4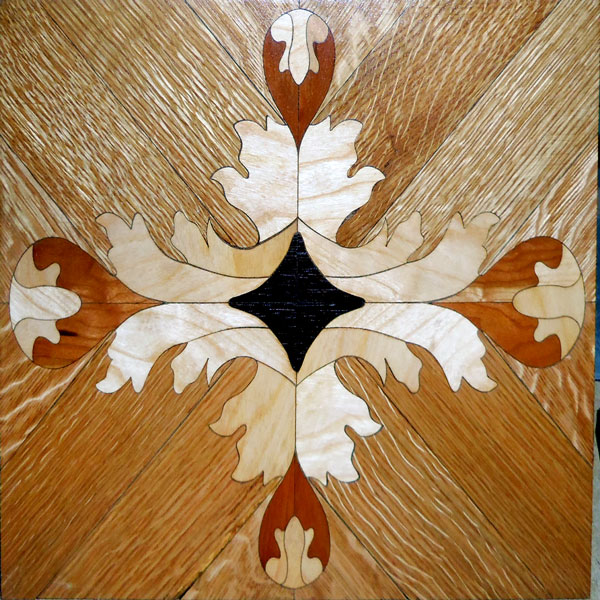 2D vs 3D Example 5