Puzzle Floor
Fun, creative and distinctive! Our hardwood PUZZLE FLOOR offers clever charm and character. It elicits expressions of surprise and amazement. Instantly creates a special and memorable environment. Our Puzzle Floor provides the perfect starting point to create a theme for game rooms, home theatre rooms, family rooms, bedrooms, commercial applications for boutiques, shops and offices, etc. Any space where fun & casual elegance is desired. Precision-cut for easy glue down installation.
Stabilized Puzzles
Our Stabilized Puzzle Floors are the best way to do a puzzle floor! A combination of on site prep work and quality puzzle pattern wear layer achieves a high end floor with superior performance at a lower cost. Typically, engineered flooring is made with a (thin) layer of real wood "LAMELLA" pre-mounted to a (usually plywood) subsrate. This works well for strip and plank flooring where the grooved side can be slid onto the tongue. However, this is not possible in case of the puzzle floor, because the puzzle pieces vertically lock into each other, making traditional T&G connection impossible. In the past, the only option was to simply have straight edges throughout the entire total thickness of the flooring. However, this could lead to vertical movement, causing squeaking between the pieces. We came up with a better approach! We have separated the lamella from the substrate so that full continous sheets of plywood could be installed on site, to which our puzzle lamella would be glued to. This will provide much better continous structural support and cut down on movement. It will also save you money for us not having to fabriacte and ship you plywood, which you can get locally. Please click the magnifying glass on left for illustration.
Large 18" PUZZLE FLOOR
Unfinished Lamella.
Now only $10.95/sqft!
$50 FLAT FEE shipping anywhere in the continental 48 United States!
18" pattern (corner to corner, not including tabs), 1/8" solid. We recommend all lamella patterns to be glued down to FLAT T&G plywood.
All lamella patterns come unfinished. Standard species are white oak and maple. Other species are available. The colors in photos below are some examples after sanding and finishing them.
Please contact us if you are intersted in a prefinished Puzzle or Designer Art Parquet floor.
Plank-made Puzzles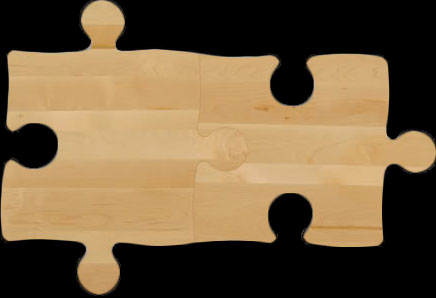 The "plank-made" puzzle tiles are made of individual planks. It combines the look of traditional plank flooring with within the overall puzzle shape.
#P-PZZL-PREF
Price is given by sqft. Some colors/species are higher. Please email us first the confirm prices.
Choose price rate based on tile size, then enter quantity on shopping cart page. Minimum order 50sqft / 5sqm.