Puzzle Floor
Fun, creative and distinctive! Our hardwood PUZZLE FLOOR offers clever charm and character. It elicits expressions of surprise and amazement. Instantly creates a special and memorable environment. Our Puzzle Floor provides the perfect starting point to create a theme for game rooms, home theatre rooms, family rooms, bedrooms, commercial applications for boutiques, shops and offices, etc. Any space where fun & casual elegance is desired. Available in many colors for any decorating style. Precision-cut for easy glue down installation.
Seamless Puzzles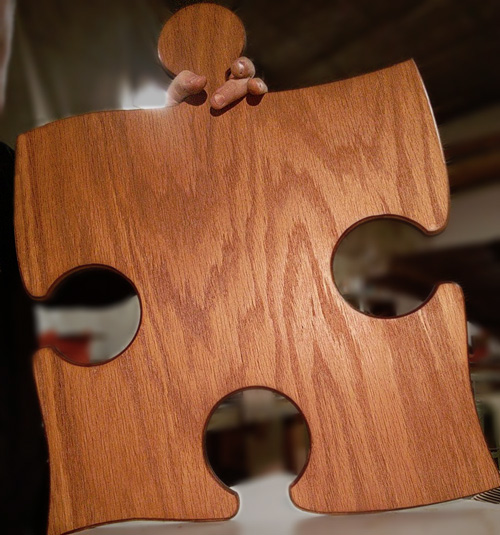 We are very proud to offer our seamless puzzle floor tiles! These pieces are made of a single, continuous slab of engineered hardwood with no seams or bevels in the face material (only the edges are beveled).
Starting at only $13 / sqft, we offer these in 2 standard sizes of 10.5" (26.7cm) and a beautiful (and unbelievable) extra large 19" (48.3cm) width (not including the tabs). Custom sizes are available at a slightly higher rate.
We offer our seamless puzzle flooring in:
UNFINISHED RAW (natural wood, square edge or beveled)
UNFINISHED REACTIVE STAIN OR DYE (for softer, smoother, cleaner look, without the strong oak grain)
UNFINISHED PIGMENTED STAIN (traditional stains with pigments, brings out the grain more, needs clear coat)
PREFINISHED with Rubio Monocoat penetrating/hardening oil. See color chart below. Custom colors available.
Thickness: 0.4"
Wear Layer: <2mm
Species: Red Oak
Grade: Select Natural
Plank-made Puzzles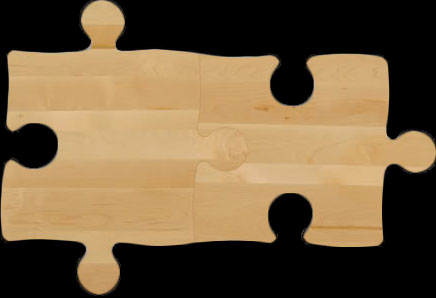 The "plank-made" puzzle tiles are made of individual planks. It combines the look of traditional plank flooring with within the overall puzzle shape.
#P-PZZL-PREF
Price is given by sqft. Some colors/species are higher. Please email us first the confirm prices.
Choose price rate based on tile size, then enter quantity on shopping cart page. Minimum order 50sqft / 5sqm.